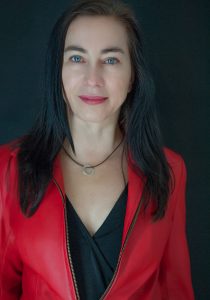 Meet: Carrie Webster: ArtSHINE Licensing Artist
Internationally acclaimed artist and photographer Carrie Webster will be hosting her solo exhibition 'Year of the Sheep' at the ArtSHINE Gallery to coincide with the Chinese New Year in February 2015.
Carrie presents a vivid reimagining of the Chinese horoscope with a 12-piece collection.
The solo exhibition will launch Saturday February 14 from 3.30-6.30pm
The Year of the Sheep, according to astrology, will be marked by peace and harmony.
The collection features every animal sign in childishly surreal landscapes and settings inspired by the characteristics of that sign, with the focus on the gentle and compassionate sheep.
Each piece has been created through digitally manipulating photographs she has taken of fruits and vegetables. The strong ox, for example, is created using
a beetroot, while horses are shaped from sweet potato and spring onion.
"I love the idea millions of people believe they are intrinsically connected to their astrology animal, and that this gives them hope, guidance and a framework for living," Carrie says.
Webster's sometimes dark and always fantastically whimsical work has been likened to that of filmmaker Tim Burton; appealing to young imaginations and the young at heart, with its narrative style inspired by folklore and fables.
Carrie works and lives in Sydney. Her recent work has been selected as finalist art work in international online photographic and art competitions.
More recently she was selected to participate in the prestigious Head On Photography Festival in May 2014. A solo exhibition of Carrie's work was exhibited at the Angel Restaurant in Freshwater, Sydney, in April.
She completed a Bachelor of Visual Arts at COFA in her early twenties, and has since worked in the field of graphic and web design. She also has a Masters degree in Information Architecture.
Solo Exhibition  @ ArtSHINE Gallery (housed in CoSydney)
Friday 13 to Saturday 28 February 2015
Grand Opening
Saturday 14 February from 3.30–6.30pm
Come and join us to celebrate the Chinese New Year "The Year of The Sheep"
Want to  learn more?
Just starting out? CLICK HERE
Been working in your business for two years or more? CLICK HERE
Submit your article – Share news, press release. SUBMIT HERE
We're here to help you to take action just like we've helped  thousands of other entrepreneurs, business owers and creative professionals all around the globe.
Now is the time to let your passion SHINE.
Now is the time to Make Tomorrow Today!
To your success,
Vinh Van Lam & Stuart Horrex
GameSHINE & ArtSHINE industries
Our Rating
Artistic - 10
Creativity - 9.3
Design - 9.2
Video-Overall Experience - 9.7
9.6
Points
A fanstatic Time Lapse show how a piece of art work created using photoshop by Carrie Webster.